Free Printable Summer Journal for Kids
Keep your children academically engaged and writing this summer with this FREE printable Summer Journal for Kids, complete with 31 summer-themed creative writing prompts.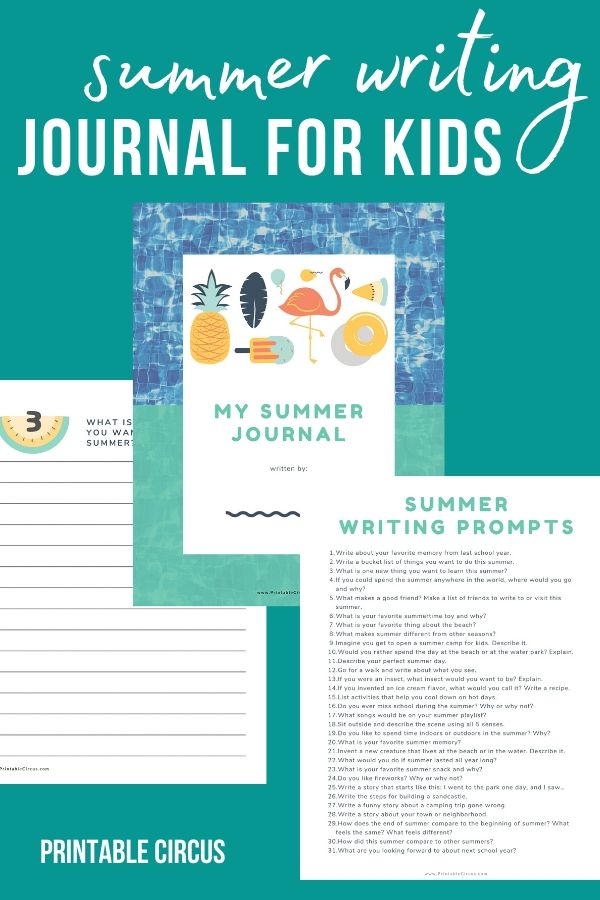 Summer Journaling Ideas for Kids – 31 Summer Writing Prompts
Here are 31 writing prompts and ideas to get you started. Each prompt/question also appears at the top of a writing sheet in the Printable Summer Journal.
Write about your favorite memory from last school year.
Write a bucket list of things you want to do this summer.
What is one new thing you want to learn this summer?
If you could spend the summer anywhere in the world, where would you go and why?
What makes a good friend? Make a list of friends to write to or visit this summer.
What is your favorite summertime toy and why?
What is your favorite thing about the beach?
What makes summer different from other seasons?
Imagine you get to open a summer camp for kids. Describe it.
Would you rather spend the day at the beach or at the water park? Explain.
Describe your perfect summer day.
Go for a walk and write about what you see.
If you were an insect, what insect would you want to be? Explain.
If you invented an ice cream flavor, what would you call it? Write a recipe.
List activities that help you cool down on hot days.
Do you ever miss school during the summer? Why or why not?
What songs would be on your summer playlist?
Sit outside and describe the scene using all 5 senses.
Do you like to spend time indoors or outdoors in the summer? Why?
What is your favorite summer memory?
Invent a new creature that lives at the beach or in the water. Describe it.
What would you do if summer lasted all year long?
What is your favorite summer snack and why?
Do you like fireworks? Why or why not?
Write a story that starts like this: I went to the park one day, and I saw…
Write the steps for building a sandcastle.
Write a funny story about a camping trip gone wrong.
Write a story about your town or neighborhood.
How does the end of summer compare to the beginning of summer? What feels the same? What feels different?
How did this summer compare to other summers?
What are you looking forward to about next school year?
Summer Creative Writing Journal
I designed two versions: one with dotted lines for younger kids and one with regular lines for older kids. Just click the download button below to grab your kids journal.